USA
The Chicago hospital gunman was fired from training academy after 'bullying' issues, official says
Juan Lopez was hired on to the Chicago Fire Department Academy on March 17, 2014, spokesman Larry Merritt said. The program is six months long.Lopez disappeared from duty during a "discipline process" related to "issues dealing with bullying," Merritt said, adding that he could not provide details.The department contacted Lopez and told him to report back to the academy. He did not show up and was fired on May 22, 2014, Merritt saidLopez, 32, killed a Chicago police officer, a doctor and a pharmacy resident. Lopez was shot in the abdomen and he also shot himself in the head, according to the medical examiner's daily case ledger. It's not clear which caused his death.
Shooter was in church with victim the day before
One of the victims was Lopez's former fiancée, Dr. Tamara O'Neal. The two were engaged until late September, when she called off the engagement, her father, Tom O'Neal, said on Tuesday in a phone interview. The two were scheduled to marry in October.Just one day before the shooting, Tammy, as her relatives knew her, attended church services Sunday with Lopez and her family in Indiana, where she was from, her father said. Lopez "couldn't accept" that the relationship was over, her father said.O'Neal's father said she was a strong believer and she and Lopez were not united in their faith."I just thank God for the 38 years we had with her. I was thinking we'd have a lot longer," Tom O'Neal said. "We were expecting being grandparents, spoiling the grandchildren."
How the shooting unfolded
O'Neal had just finished her emergency room shift at Mercy Hospital when Lopez approached her in the parking lot, argued with her and shot her, officials said. Police haven't said what led to the confrontation.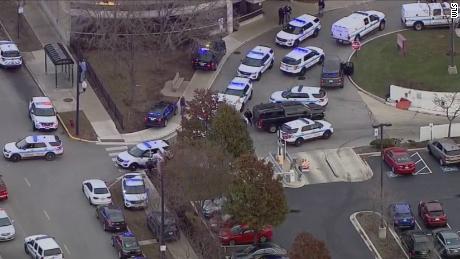 Responding police officers pursued the gunman into the hospital, exchanging gunfire with him for several minutes.Lopez then shot and killed two more people — Chicago police Officer Samuel Jimenez and 24-year-old pharmacy resident Dayna Less, police Superintendent Eddie T. Johnson said. A bullet also hit the holster of a second officer, who was uninjured, Johnson said.Jimenez, 28, joined the department in February 2017. He had just become a full-fledged member of the force after completing a probationary training period after, Johnson told reporters.Jimenez and his partner went to the hospital when they heard dispatch traffic about the shooting there. "They weren't assigned to that particular call, but they went," Johnson said, "because that's what we do."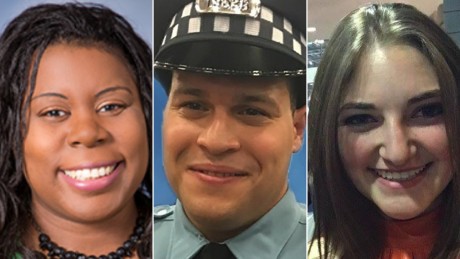 Less was a first-year pharmacy resident training to be a pharmacist, the hospital said. She recently graduated from Purdue University and joined the hospital staff in July.She was shot by the gunman as she was getting off the elevator, Johnson said. She had "nothing to do with nothing" related to the gunman.Less was tenacious in all things, her father said, including her career. Although she had a severe headache disorder that left her largely unable to go to school, she eventually found a doctor at Georgetown University who performed two surgeries that addressed the symptoms, Brian Less said. "Dayna was a very special person. She had unique gifts," he said, according to CNN affiliate WLS. "She was intelligent, she was funny, she was kind, she was a good friend."
'Too close for comfort'
The hospital's emergency room department reopened Tuesday afternoon. The entire facility is "functioning at near capacity," said chief medical officer Dr. Michael Davenport. The shooting drew large numbers of law enforcement and emergency responders. Vehicles with flashing lights cordoned off the blocks around the medical center.When the gunman entered the facility, hospital worker Patricia Rinella and others barricaded themselves in a room, blocking a door with a copy machine, she told CNN affiliate WBBM."It was too close for comfort," Rinella said. "It just seemed like he was all over the place."
CNN's Emanuella Grinberg, Sheena Jones and Ryan Young contributed to this report.